Corporate Compliance Center
HOW TO VERIFY YOUR COMPANY's STATUS
Each state will have a different website. I know of the California Statement of Information Office Online, with which you can verify whether a corporation is active or not. After a search, an ACTIVE status means your filing is still good, however, it does not mean you are compliant with the $25/year payment. For that, if you know you did not send anything yet, I think you have to call the office to see where it's at.
Got yet another Corporate Compliance Center letter. The last one was in 2015. I've put a link below the 2011 version. As you will notice, the letter is slightly different. Not too sure why they would do that. Maybe it makes it a bit harder to search with Google.
Here are scans. Click on the pictures to enlarge them.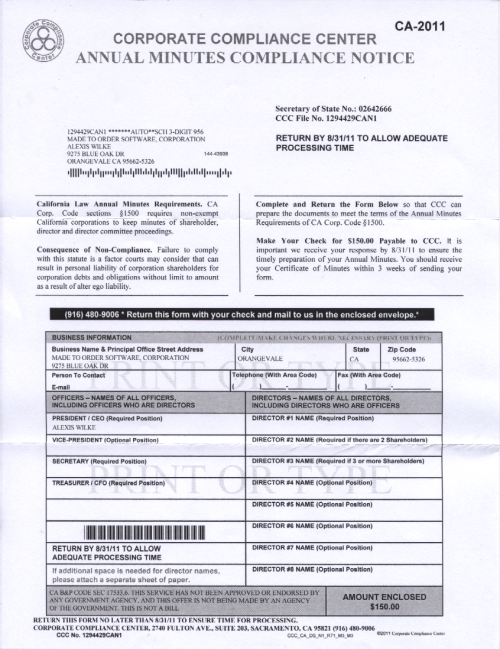 Figure 1. The letter (click to enlarge)
Click here to see the letter of 2015

The main letter asks you to send $150 to make sure your information is properly registered with the State of California. For those of you who do not know, the State has not changed the amount charged to keep your company registered: $25.
Letter Transcript
Corporate Compliance Center logo (circle with 3 open rings inside)
CA-2011 (representing the letter number or reference)
CORPORATE COMPLIANCE CENTER
ANNUAL MINUTES COMPLIANCE NOTICE
Secretary of State No.: 02642666 (this is our corporation registration number, note the Secretary of State number!)
CCC File No.: 1294429CAN1
1294429CAN1 *******AUTO**SCII 3-DIGIT 956
MADE TO ORDER SOFTWARE CORPORATION
ALEXIS WILKE
9275 BLUE OAK DRIVE 144-43938
ORANGEVALE CA 95662-5326
(followed by the postal code bar representing the address)
RETURN BY 8/31/11 TO ALLOW ADEQUATE (the $25 has to be paid by April, either they're dead late for 2011 or they're very early for 2012)
PROCESSING TIME
---
California Law Minutes Requirements. CA
Corp. Code Section §1500 requires non-exempt
California corporations to keep minutes of shareholders,
director and director committee proceedings.
Consequence on Non-Compliance. Failure to comply
with this statute is a factor courts may consider that can
result in personal liability of corporation shareholders for
corporation debts and obligations without limit to amount
as a result of alter ego liability.
Complete and Return the Form Below so that CCC can
prepare the documents to meet the terms of the Annual Minutes
Requirements of CA Corp. Code §1500.
Make Your Check For $150.00 Payable to CCC. It is
important we receive your response by 8/31/11 to ensure the
timely preparation of your Annual Minutes. You should receive
your Certificate of Minutes within 3 weeks of sending your
form.
---
(916) 480-9006 * Return this form with your check and mail to us in the enclosed envelop *
BUSINESS INFORMATION
(COMPLETE/MAKE CHANGES WHERE NECESSARY (PRINT OR TYPE)
Business Name & Principal Office Street Address
MADE TO ORDER SOFTWARE, CORPORATION
9275 BLUE OAK DR
City, State, Zip Code
ORANGEVALE, CA, 95662-5326
Person to Contact
E-mail
Telephone (With Area Code) - Fax (With Area Code)
OFFICERS - NAMES OF ALL OFFICERS,
INCLUDING OFFICERS WHO ARE DIRECTORS
DIRECTORS - NAMES OF ALL DIRECTORS,
INCLUDING DIRECTORS WHO ARE OFFICERS
PRESIDENT/CEO (Required Position)
ALEXIS WILKE
DIRECTOR #1 NAME (Required Position)

VICE PRESIDENT (Optional Position)

DIRECTOR #2 NAME (Required if there are 2 Shareholders)

SECRETARY (Required Position)

DIRECTOR #3 NAME (Required if 3 or more Shareholders)

TREASURER / CFO (Required Position)

DIRECTOR #4 NAME (Optional Position)

DIRECTOR #5 NAME (Optional Position)
(some "random" code bar)
DIRECTOR #6 NAME (Optional Position)

RETURN BY 8/31/11 TO ALLOW
ADEQUATE PROCESSING TIME
DIRECTOR #7 NAME (Optional Position)

If additional space is needed for director names,
please attach a separate sheet of paper
DIRECTOR #8 NAME (Optional Position)

CA B&P CODE SEC 17533.6. THIS SERVICE HAS NOT BEEN APPROVED OR ENDORSED BY ANY GOVERNMENT AGENCY, AND THIS OFFER IS NOT BEING MADE BY AN AGENCY OF THE GOVERNMENT. THIS IS NOT A BILL
AMOUNT ENCLOSED
$150.00
[the form includes two PRINT OR TYPE watermarks in light gray]
RETURN THIS FORM NO LATER THAN 8/31/11 TO ENSURE TIME FOR PROCESSING.
CORPORATE COMPLIANCE CENTER, 2740 FULTON AVE., SUITE 203, SACRAMENTO, CA 95821 (916) 480-9006
CCC No. 1294429CAN1
CCC_CA_DS_N1_R71_M3_M3
©2011 Corporate Compliance Center (Yeah! then even have a copyright!)
Note that they did include a notice tell you you should not send them any money. So I have to grant them that they are not 100% crooked.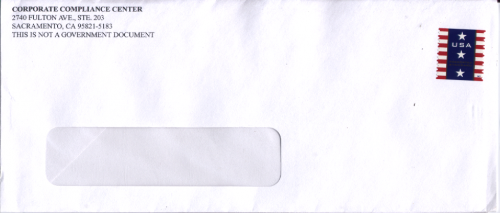 Figure 2. The Envelope I Received

The envelope used to send the letter includes the address. Somehow, the same as the one found in the form!
Notice the warning: THIS IS NOT A GOVERNMENT DOCUMENT
Good, but why make it look like one if it isn't one?!
Figure 3. Return Envelope (Front)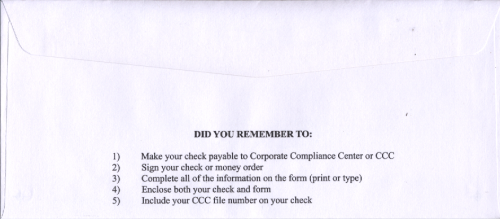 Figure 4. Return Envelope (Back)

The return envelope includes the usual, hey don't forget to include your check! That's really all we want!
Anyway, they will eventually send you something back... I'm not too sure.
In regard to what they are talking about, it sounds like the Corporation minutes and not the $25 registration fee. So the fee could very well be anything you'd like. I have such a letter and it generally simply says that nothing is changing this year. As for the date, they got it wrong for my company. Whether the shareholders have to be present, not really. It is their right to be present, but it is optional.
Anyway, to type a letter, you probably don't need to pay $150 to some stranger.
---
Here I got a new one for 2020. This time the fee is $175. What I don't understand is that this is the same address so the exact same people and that's been going for ages. I'm really wondering why no one bothered to remove those scammers. Maybe they are a group of attorneys and so they know the law and they think this can be done without much risk to themselves.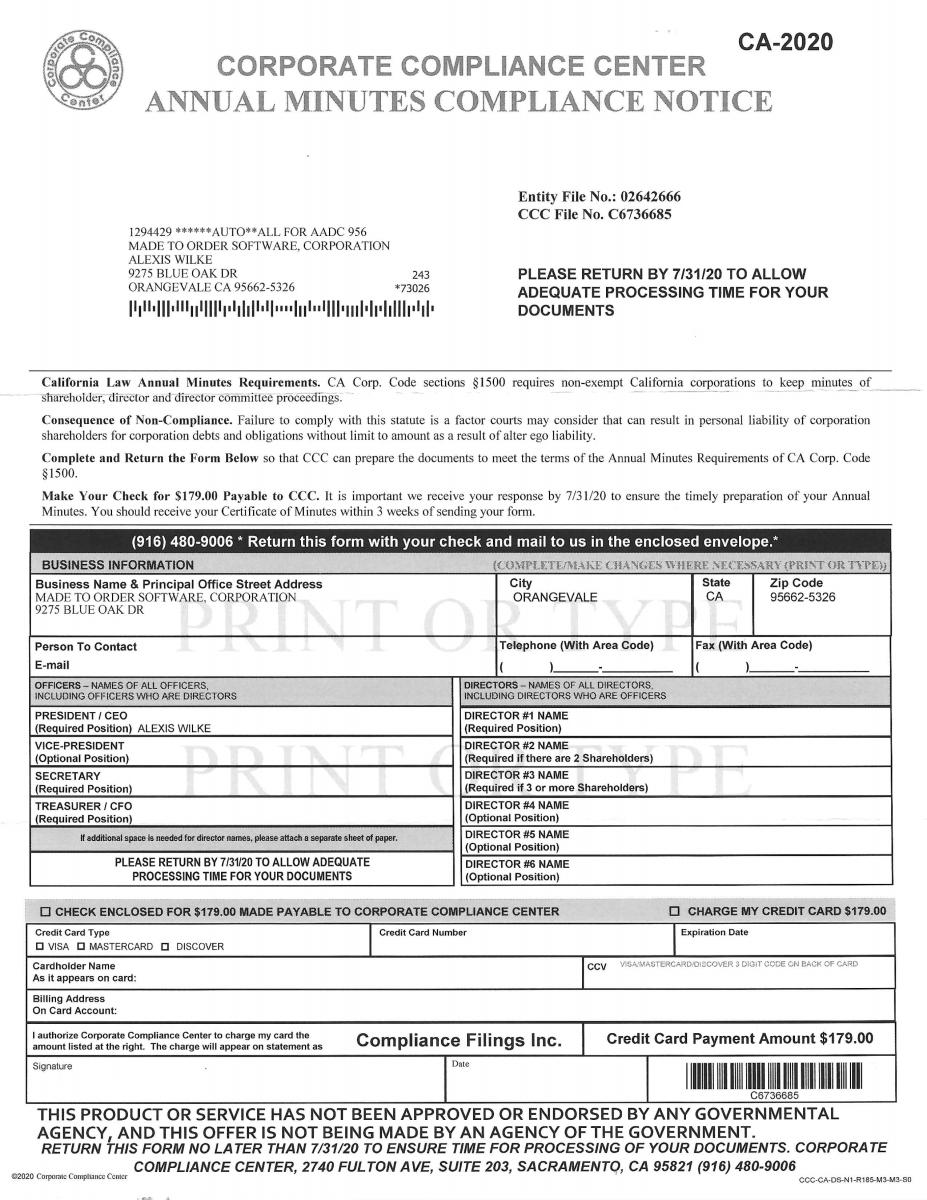 Here is also a picture of their office, as viewed from the outside: