Your Guaranteed $10,000.00 has been approved
It looks like I registered on some website that I never heard of and thus this credit card company can email me their advertising. Good. Although, again I did not ask for it and I would not enter my personal info in a place offering credit cards just like that on the Internet... Not if that wasn't a well known institution like CitiBank or even some local, around the corner bank like Bank of Folsom. And of course this offer is not for a credit card. Just a purchase card. You can read the fine print. The card is just a mean to record your account number.
Now... we could talk about the offer at length too. $10,000 guaranteed. So far, all the cards I've got are $5K or less. And here we go, out of thin air, they don't even know me and they offer me $10k. Right...
Oh! And of course, since they send image in their email they probably have a hard time with putting the right name in the email. Yeah, I'm Jami, although the woman on the picture is cute, that's not me... (sorry guys, I'm a guy too anyway.)
So... here we are, wrong name, all images, incognito financial institution. Want to move forward with National Platinum.com?
Ah! By the way... you have to be a member for 6 months before you can take advantage of the $100.00 gift card. I guess the membership will cost you at least $100 for 6 months... and what you can buy with the card is limited to what they sell online. In other words, you will have to purchase overpriced items in their exclusive store... Good luck with all of that!
---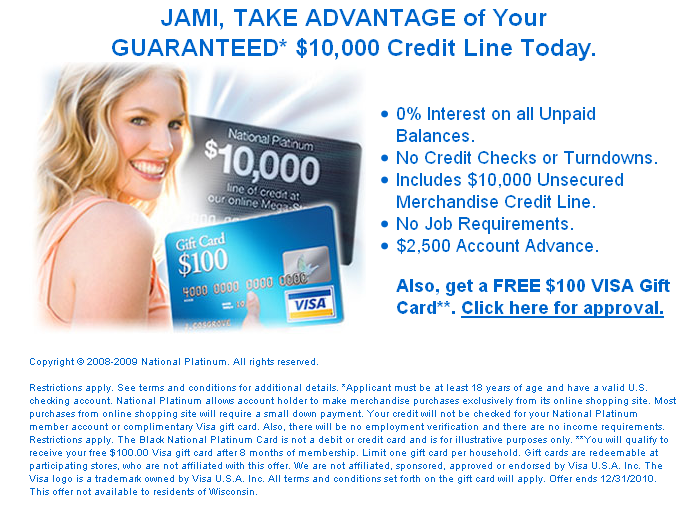 Transcript:
[1st box]
JAMI, TAKE ADVANTAGE of Your
GUARANTEED* $10,000 Credit Line Today.
0% Interest on all Unpaid Balances
No Credit Checks or Turndowns.
Includes $10,000 Unsecured Merchant Credit Line.
No Job Requirements.
$2,500 Account Advance.
Also, get a FREE $100 VISA Gift Card**. Click here for approval.
Copyright (c) 2008-2009 National Platinum. All rights reserved,
Restrictions apply. See terms and conditions for additional details. *Applicant must be at least 18 years of age and have a valid U.S. checking account. National Platinum allows account holder to make merchandise purchases exclusively from its online shopping site. Most purchases from online shopping site will require a small down payment. Your credit will not be checked for your National Platinum member account or complimentary Visa gift card. Also, there will be no employement verification and there are no income requirements. Restrictions apply. The Black National Platinum Card is not a debit or credit card and is for illustrative purpose only. **You will qualify to receive your free $100.00 Visa figt card after 8 months of membership. Limit one gift card per household. Gift cards are redeemable at participating stores, who are not affiliated with this offer. We are not affiliated, sponsored, approved or endorsed by Visa U.S.A. Inc. The Visa logo is a trademark owned by Visa U.S.A. Inc. All terms and conditions set forth on the gift card will apply. Offer ends 12/31/2010. This offer not available to residents of Wisconsin.
[2nd box]
This advertisement was sent to you by National Platinum.com. If you have any questions, you may contact us at National Platinum, 2533 North Carson St, Suite 5541, Carson City, Nevada 89706. If you wish to remove yourself from future National Platinum mailings please click here to go to the website and unsubscribe.
[3rd box]
You are receiving this daily newsletter because your Email was submitted to the estartsampling.com newsletter from estartsampling.com Click Stop this email. To Opt out by postal mail, please include your email address: estartsampling,com, 3109 Grand Ave, Coconut Grove #105, Florida ,33133