A Scam through Realtor.com
A couple of days ago, I received a contact from Realtor.com. What they do is make sure that a cell phone and an email address get registered. The cell phone is simple, they just send a code via a message and if you can enter the code in your website, the phone is considered validated. The email address, same thing, they send you a link you have to follow and that will make it think you own that email account.
So in itself, that won't really prevent a scammer from using the system.
This is what the message said:
"I'm interested in 2104 University Park Dr, Sacramento, CA 95825"
The usual as far as that website is concerned.
Now the same did sound very Arabic (Salem Mohamed), I cannot discriminate and anyway if that person has the money to purchase that home, I'd be more than happy to get a commission. but...
I sent him an email asking when he would be able to visit the place and got a reply that made "no sense" in that regard.
There is my reply to the message about the University Park Dr. home:
Hi Salem,
I sent you text message too, but just in case that does not work, I'm also sending you an email...
Let me know when you are available to visit the property.
I can do it any time tomorrow, pretty much.
This is a hot area so going fast is going to be important if you have a real chance of snapping the place.
Thank you.
Alexis
So obviously I'd expect an answer such as: let's try at 5pm or something of the sort.
Instead, very strange answer (strange in the sense that if he was serious about investing in real estate he would not say stuff like that, who cares what he's doing etc. just send me a proof of funds and tell me which homes you want to buy!):
My name is Salem Mohamed, I am a top Government functionary in the present government of Bashar al-Assad, the embattled Syrian President, I am in a dire need of a trust worthy individual/Organization who can receive and invest the sum of $9,300,000.00 (Nine Million Three Hundred Thousand US Dollars) on my behalf, the need for this is as a result of the ongoing war in my country, Syria.
I am interested in the purchase of a private residence in your country or any country that you are well-acquainted with ..This must be located in a well-reserved,conducive,serene,and secure environment ..I wish to make this purchase in a very confidential and secret manner due to my present position.
I wish to inform you that I contacted you because I have interest in
having outside investment plans. Of which I will like to discuss
business with you that will yield high profit to us. But I also have
interest on in the following sectors: Real estate,Energy
,oil/Gas,stock speculation and mining,transportation, health sector
and Communication Services,Agriculture Forestry & Fishing, thus any
sector..
If your business are ok, then we will discuss further while I make my
decision. Kindly advice me on your field of business too so that I
will reason with you and get back while we can as well work in regards
to your field of business.
Kindly contact me immediately for further details.
Please Treat as Urgent and Confidential.
Thanks
Salem Mohamed
So playing with him, I sent a nice reply to see what happens.
Hi Salem Mohamed,
I certain can help you with your Real Estate needs and wants.
Are you in the Sacramento region? It is best for you to check out the places you want to purchase before you purchase them.
Thank you.
Alexis
You'd think the guy would eventually catch up on the Real Estate part... Nope. There is his reply. So first of all he wants to tell me more about himself and his wife and country and son... which he already talked about himself in the previous email anyway and also he goes on about me having to send him a photocopy of my passport. Right. Like I'd do that with any stranger via email just like that. Ha! Ha! Good one.
Also this answer came in a nice box which makes me think he has a ready made set of emails and just change the name (as we can see, my name appears at the top.

Attention: Alexis Wilke

I'm sorry for the late response is because I don't have access of
internet all the time.

I acknowledge the receipt of your interest about securing this fund
and I deem it most pertinent that I introduce myself. My name is Mr.
Salem Mohamed, working in the top Government functionary in the
present government of president Bashar al-Assad. I am 49 years old,
well trained engineer and presently the Deputy Port Director at Mass
port of Syrian port authorities, my wife Mrs. Fatima who lost her life
3rd of April 2014 and we have a son called Mr. Abdul Mohamed but I
have a fiancé and we already planning to get married.

Judging by what happened in my country Syria since March 15, 2011
whereby the president was forced to step down but he refuse which
causes unrest in my country till today however so many Syrian citizens
and top official ministers has been  killed in Syria since 2011 and so
I'm scared about the sad news and we don't know what will happen next,
so at this moment I have decided to secure my fund which I deposited
in Dubai, United Arab Emirates on February 11, 2011 because the
European Union (EU) & United Nation (UN) was planning to frozen and
seized, some funds in the banks who worked in top government in Syria.

It is very important for me to take precautionary steps so as to avoid
losing these funds to the Syria government when a new president comes
in (which seems inevitable right now) hence I need your sincere
assistance and trust to receive these funds on by behalf before it's
too late as the pressure is very high of the president Bashar al-Assad
to step down as the president and which if he does will lead to the
seizure of his assets including Local and International bank accounts
and that of those of us who are part of his government. Like I said
previously I will also need your assistance in getting a nice property
(House) for purchase as I have decided to relocate out of Syria as
soon as the war/crisis is over but right now my immediate need is get
these funds secured in a safe hand. I have plans to compensate you
with 30% of the total sum of $9,300,000.00 (Nine Million Three Hundred
Thousand US Dollars) for your trust and assistance and my Lawyer have
all the transaction documents for safety purposes.

Meanwhile if you're really interested and willing in this transaction
deal, our next step now is; both of us have to identify ourselves
properly by sending our Identification documents such as passport,
Drivers License or national Identification card with signing of
memorandum of Understanding and with these, I will enable me send my
lawyer's full contact details for more details and also to start the
transaction process.

I will be waiting for your immediate positive response and I will
attach my passport copy in my next message.

Please keep updating me via my e-mail and let this remains confidential.

Sincerely
Mr. Salem Mohamed
Damascus Syria

Notice this one includes his location in his signature. :-)
Another laughable statement: he has $9.3M at his disposal (more or less) and works for the Syrian government, but he does not always have access to the Internet. No suspicious at all.
Another something to laugh about... he has fiancé who he plans to marry. Maybe the customs are different in Syria, but it seems to me that if you make someone your fiancé, the goal is to marry them, right?
Okay, time to send him another email... who knows, maybe he's capable of answering properly when asked a specific question.
Hi Mohamed,
Nice meeting you! I'm sorry to hear about your wife. It should not happen so soon.
So I'm okay with helping you get a few homes here, then you can rent them and get cash coming in every month as you rent them.
What I need from you is to choose the homes and then make an offer to get it transferred into your name. The transfer is performed by a Title company and everything can be done online so you do not have to be here to get everything completed.
What I will need on my end is your full name, full address, and a proof of fund (a copy of the bank account with the $9.3M, you should hide the account number first, though.) Can you send me those documents?
You can verify my credentials as a RealtorⓇ on Realtor.com and the MLS. My number is 02024063. To verify that number you can go to the California Bureau of Real Estate: http://www2.dre.ca.gov/PublicASP/pplinfo.asp
If you want that to go fast, then make sure to get me all that information as quickly as you can.
Very truly yours,
Alexis
Well! Guess what? He answered.
The email includes two images: one from his passport (check out this page about that one...) and one from Deutsche Bank. Both from 2011 (that is, the passport expired in 2011). Oops. Oh well...
One detail, though, I suppose that could happen but other passports I've found on the net have the person's name using lowercase.
Attn: Alexis Wilke

My complete name: Salem Mohamed
Address: Victoria Bridge, Mardam Bldg PO Box 5788. Damascus Syria.

And i attached the proof of fund and copy of my International passport.

Be informed that I have already made an official request for the bank statement of the Fund of $9.3 million and it takes 24 hours to be ready.

Keep in mind that I will also need your detail so that I will prepare the Memorandum of Understanding letter for our mutual comprehension.

Kindly update me through my email and let this remain confidential.

Sincerely
Mr. Salem Mohamed
Damascus Syria
---
Salem Passport.jpg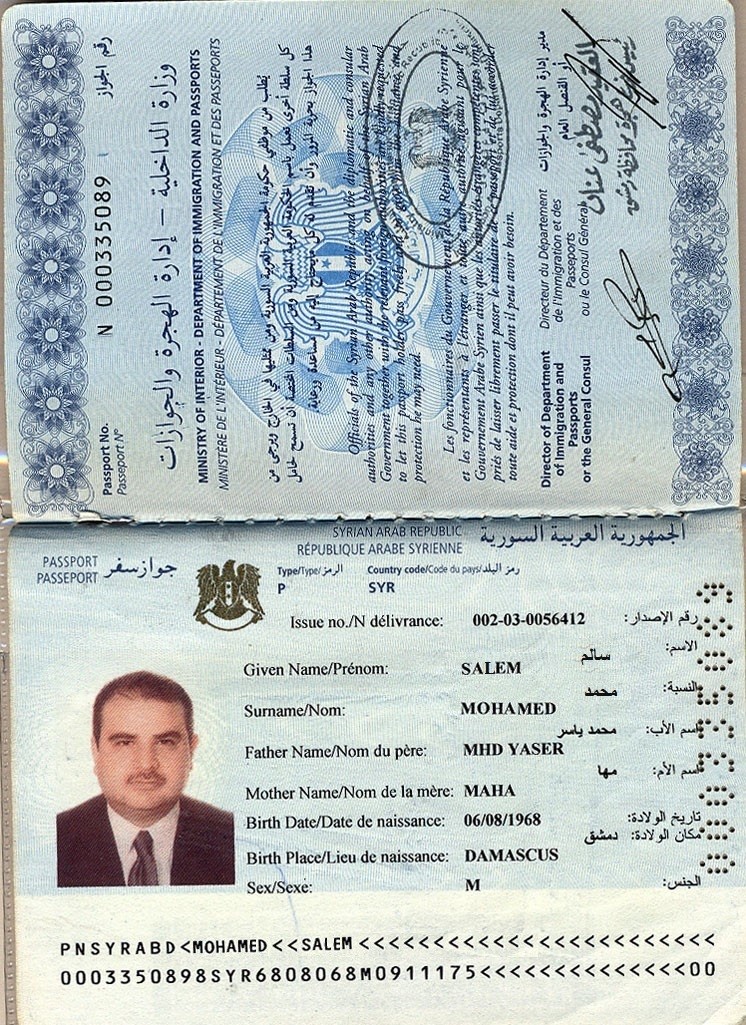 Transcript:
(top page)
Passport No. N 000335089
Ministry of Interior - Department of Immigration and Passports
Officials of the Syrian Arab Republic and the diplomatic and consular authorities and any othr authority acting on behalf of the Syrian Arab Government together with the relevant foreign authorities are kindly required to let this passport holder pass freely and give him the assistance and protection he may need.
Director of Department of Immigration and Passports or the General Consul (signature thereof)
(bottom page)
Passport
SYRIAN ARAB REPUBLIC
Type: P
Country Code: SYR
Issue no. 002-03-0056412
Given: SALEM
Surname: MOHAMED
Father Name: MHD YASER (in Arabic, the given name is written in full: Mohamed)
Mother Name: MAHA
Birth Date: 06/08/1968
Bith Place: DAMASCUS
Sex: M
PNSYRABD<MOHAMED<<SALEM<<<<<<<<<<<<<<<<<<<<<<<<
0003350898SYR6808068M0911175<<<<<<<<<<<<<<00
[That long number on the last line includes 09 11 17 (just after the sex, M here), which is the expiration date: 17 Nov 2009. Oops.]
---
proof of fund.jpg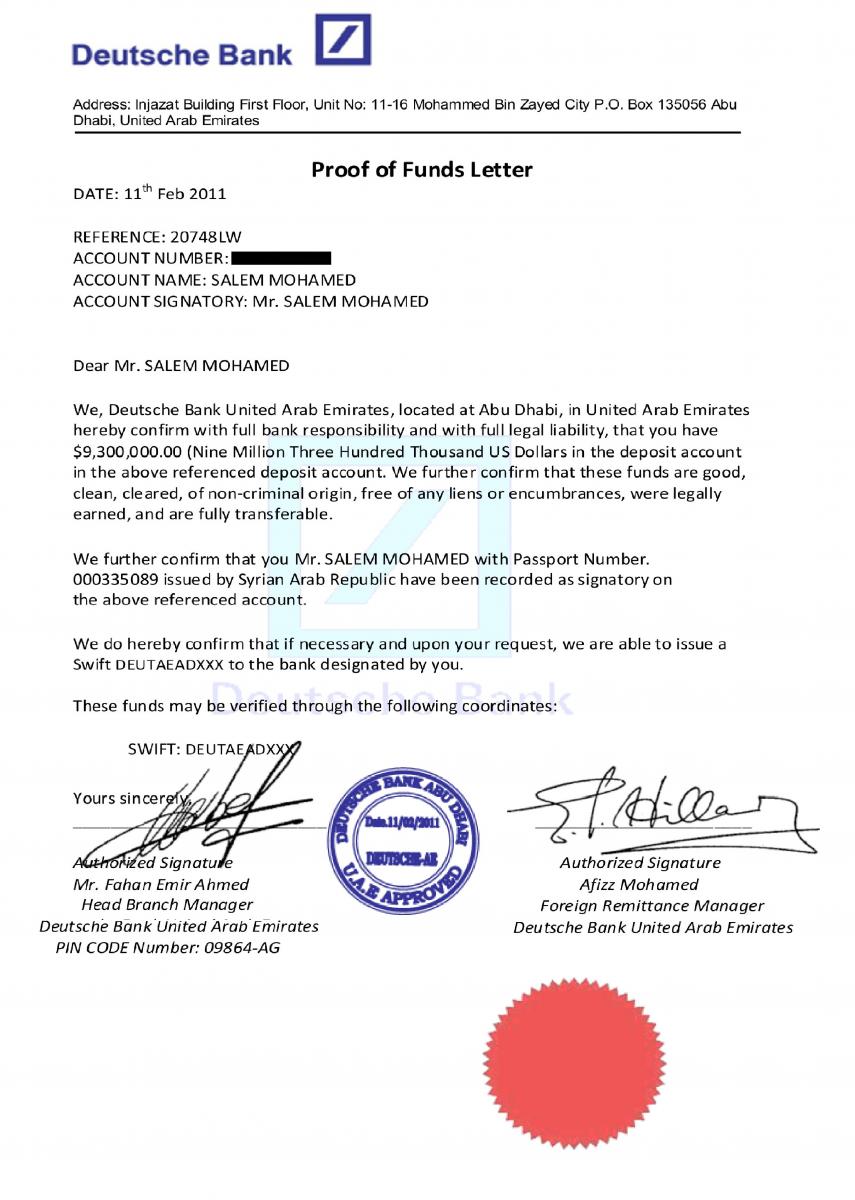 Transcript:
Deutsche Bank
Address: Injazat Building First Floor, Unit No: 11-16 Mohammed Bin Zayed City P.O. Box 135056 Abu Dhabi, United Arab Emirates
Proof of Fund Letter
DATE: 11th Fev 2011 [Oops... wrong date!]
REFERENCE: 20748LW
ACCOUNT NUMBER: [blocked]
ACCOUNT NAME: SALEM MOHAMED
ACCOUNT SIGNATORY: Mr SALEM MOHAMED
Dear Mr. SALEM MOHAMED,
We, Deutsche Bank United Arab Emirates, located at Abu Dhabi, in United Arab Emirates hereby confirm with full bank responsibility and with full legal liability, that you have $9,300,000.00 (Nine Million Three Hundred Thousand US Dollars in the deposit account in the above referenced deposit account. We further confirm that these funds are good, clean, cleared, of non-criminal origin, free of any liens or encumbrances, were legally earned, and are fully transferable.
We further confirm that you Mr SALEM MOHAMED with Passport Number 000335089 issued by Syrian Arab Republic have been recorded as signatory on the above referenced account.
We do hereby confirm that if necessary and upon your request, we are able to issue a Swift DEUTAEADXXX to the bank designated by you.
These funds may be verified through the following coordinates:
SWIFT: DEUTAEADXXX
Yours sincerely (signature)
Authorized Signature
Mr. Faham Emir Ahmed
Head Branch Manager
Deutsche Bank United Arab Emirates
PN CODE Number: 09864-AG
(Blue Stamp)
Deutsche Bank Abu Dhabi - U.A.E. Approved - Date 11/02/2011 - DEUTSCHE-AE
(signature)
Authorized Signature
Afizz Mohamed
Foreign Remittance Manager
Deutsche Bank United Arab Emirates
(large empty red stamp)
---
One of the email headers for those who would be interested. Note that as I've seen before, each time

Return-Path: <SRS0+QGQS=CW=gmail.com=sm6319336@m2osw.com>
X-Original-To: alexis@diverserealty.team
Delivered-To: alexis_diverserealty@m2osw.com
Received: from mail-qk0-f196.google.com (mail-qk0-f196.google.com
    [209.85.220.196])
    (using TLSv1.2 with cipher ECDHE-RSA-AES128-GCM-SHA256 (128/128 bits))
    (No client certificate requested)
    by m2osw.com (Postfix) with ESMTPS id 5CA9240198
    for <alexis@diverserealty.team>; Fri, 24 Nov 2017 10:45:38 +0000 (UTC)
DMARC-Filter: OpenDMARC Filter v1.3.1 m2osw.com 5CA9240198
Authentication-Results: mail.m2osw.com; dmarc=none header.from=gmail.com
Authentication-Results: m2osw.com;
     dkim=pass (2048-bit key; unprotected) header.d=gmail.com
     header.i=@gmail.com header.b=dDGKr9tK; dkim-atps=neutral
Received: by mail-qk0-f196.google.com with SMTP id p19so24016229qke.2
     for <alexis@diverserealty.team>; Fri, 24 Nov 2017 02:45:38 -0800 (PST)
DKIM-Signature: v=1; a=rsa-sha256; c=relaxed/relaxed;
     d=gmail.com; s=20161025;
     h=mime-version:from:date:message-id:subject:to;
     bh=22RnbH8QOGq/2j2Xg14Hhldl6WjKtsocMeV7p3wzZJQ=;
     b=dDGKr9tKPIndK5m5k68RM9iJodupPDWQjJuV90SsT6mhaSwdORHJNjAnDCJi7dVBDI
     /O9YGmt9wjEjPTugTGK1YdViFCNjJO9+vfikwE2xo/gaRq59pbTQXUzLW72TduELl5jS
     rr56AT8oWBSbF/QY1mL10xFr+4ekL5PZrmOWxQhtsTJ/MLy9LQHdEu5J5Ig+wgJdBj4H
     QgvKSc1ERsQHpUb3GTR7NFXdaRexKPWUHd5TPfuqfyrWog4rWQ0io5oVljOVIVHB5mjx
     M5NBULP+7ZF+X1bumF4hNG3wQ91/SJVULktbmO+oVeDhLd6Cp7b3vXMlVJJa/h5/cu+L
     qsUQ==
X-Google-DKIM-Signature: v=1; a=rsa-sha256; c=relaxed/relaxed;
      d=1e100.net; s=20161025;
      h=x-gm-message-state:mime-version:from:date:message-id:subject:to;
      bh=22RnbH8QOGq/2j2Xg14Hhldl6WjKtsocMeV7p3wzZJQ=;
      b=QDbQA+xJ6/nPPtXE5Mo8+dg/fEH2JTxWakSAZPmh47EsU3t9j/47H4Ra1OVMjA0Api
      Q+mGEflRgwtnxswrKTSovFPz3wXGfAUibhSw4Sve+2itK2j7+ZaqvMy97qYdK9LZpB6P
      RU6fMHg0Bl6iwLuSqOBoMAiGiwmPpbPQu1L5q1YLO/qi8qamVaA5dpKXfbIHZfVm8YWq
      brorA3+PEJQjSg9g75VLHKRgS7TBfujI7LFcd7QzX0l6C6OPC4fg2WotsI1wZfHNZLbv
      YXl3VRCoxwtOhQKl93ngM8KEgg2Q3OLolKVpm9yS1WCrBv3lakULaQtGwH11YFGFhsF3
      sULA==
X-Gm-Message-State: AJaThX7Auq59vdTyav2VpNriCvU/5XQV+Bn+q0Jf+lEXW8t2CjHiE
      Qhhpw0XAAbzK4Co1jRfAcd7k1rmpzsULgNwXux1aQBELg==
X-Google-Smtp-Source: AGs4zMYTE1+g0pevsHQZL40GWTuGBrvJn61WRIPhupTl1zS+
      UlC2BQyzRtY6VIKNaNVzlZnVDWwvusKY0gcNaf0thUQ=
X-Received: by 10.55.106.131 with SMTP id
      f125mr13086095qkc.88.1511520335584;
      Fri, 24 Nov 2017 02:45:35 -0800 (PST)
MIME-Version: 1.0
Received: by 10.140.22.8 with HTTP; Fri, 24 Nov 2017 02:45:34 -0800 (PST)
From: Salem Mohamed <sm6319336@gmail.com>
Date: Fri, 24 Nov 2017 11:45:34 +0100
Message-ID: <CAOhKsUCwatbhHHqmFQX4A=scms2L_Rj_PWUS-m4smjk0G0qGKw@mail.gmail.com>
Subject: The Required Information
To: Alexis Wilke <alexis@diverserealty.team>
Content-Type: multipart/mixed; boundary="001a114fe758acd999055eb840fd"