Kipling's Who's—Who Leading Business Professionals
Today I received a letter from Kipling's Who's Who. Have you heard of them before? Me neither. So I looked a bit on the Internet to see what I could find. About 10 people mentioning the fact that they will appear in their directory in 2008 (yes, sometime, in 2008, it will appear...) The funny part in this one is that there is no one saying they where in this directory in 2007. Brand new then? Very possibly... Although I have seen some of the Copyrights saying 2006.
So... first the scans of the letter...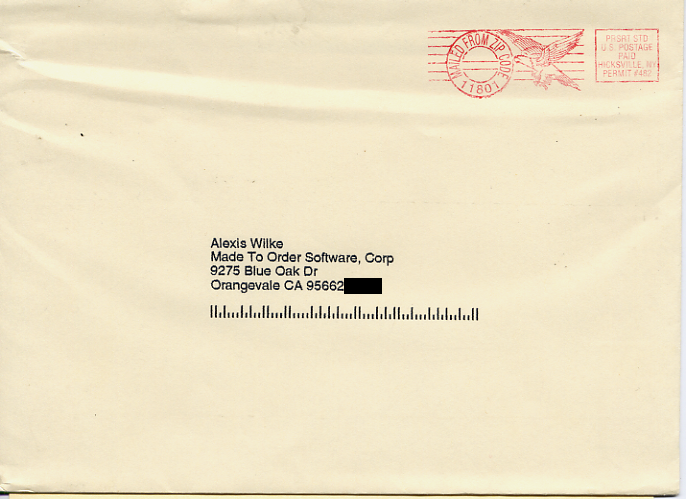 Kipling's Mail, front of the envelope in which I received the Kiplin's Who's Who form. Nothing unusual... He must be using another company to process his mailings since the postal stamp is just just a red ink stamping.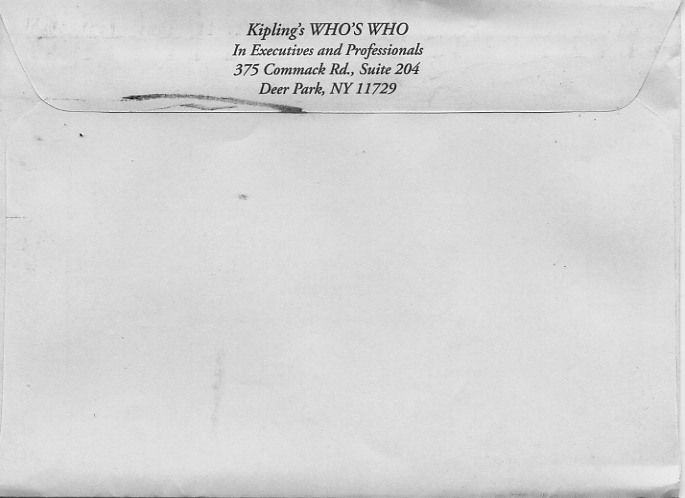 Kipling's Mail, back of the envelope in which I received the Kiplin's Who's Who form. The address matches the website address and the recent whois registrations. Note that everything was beige, but my scanner was set on black and white when I started...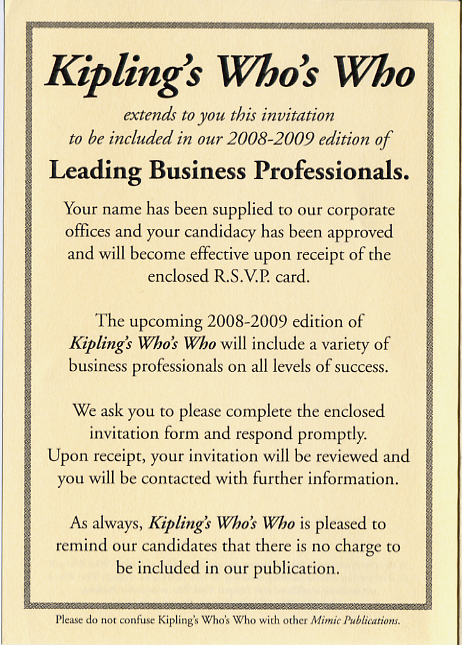 This becomes interesting. Leading Business Professionals. That sounds so great, a little more and I'd believe it. Oh! Wait! It is about me!!! How can I be leading anything?! I just started my business!!! Notice that it is totally free until you want to verify that you are on the CD-ROM and then you'll have to pay for it... and they may keep a safe copy of your credit card number and such.
Notice the bottom note? Do not confuse us with other mimic publications. I do not recall ever seeing such a stupid comment on any good magazine like New Look or Cosmopolitan. I bet many people confuse those magazines all the time...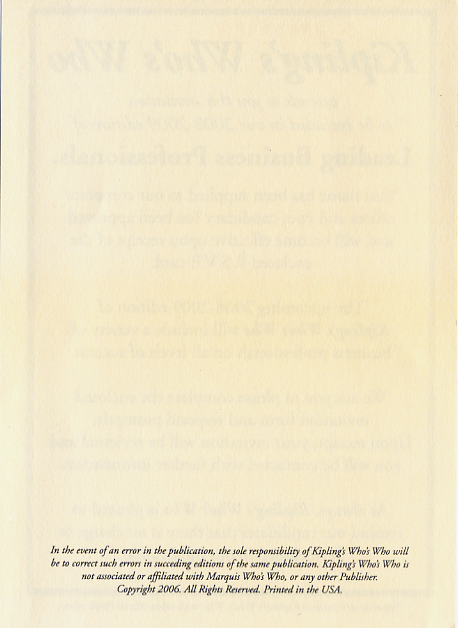 This is the back of the introduction. Notice that the Copyright was not changed. So it is still from 2006... although in the front, it properly says 2008-2009. Otherwise, please, pay attention! Do not confuse them with Marquis Who's Who. You know, in case you were to do business with a real company instead of the great Kiplin's Who's Who...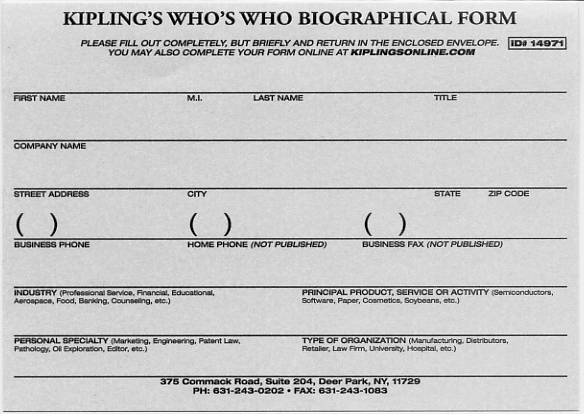 Form, very similar to the one found on the net except that in this one you can write really anything you want. But again, avoid writing down your neighbor info! 8-) Notice that they do not ask anything like payment information. However, they insist on getting your personal information in the website.
Address: 375 Commack Road, Suite 204
Deer Park, NY 11729
Tel: 631 243-0202 — Fax: 631 243-1083
Then there is this link at the top http://kiplingsonline.com of the form (and no... You cannot click on this one, this is not a link...) This page is a form you have to fill out to get registered with this incredible directory. I have put an image below: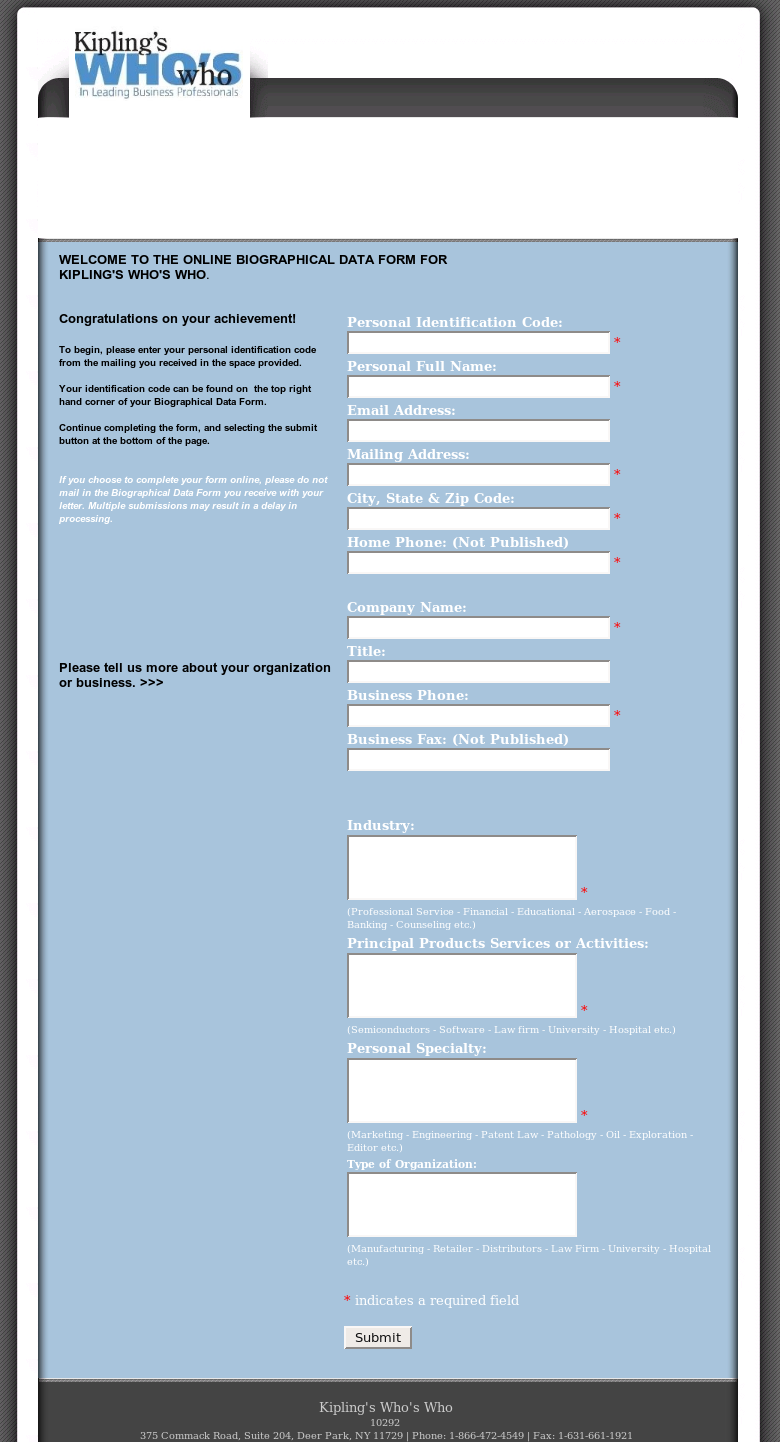 I thought that was really weird that the URL would bring you directly to a form. No business in their right mind does that. Unless it is a scam or a spam feature.
The page includes several references to a site named b5z.com like the one for the Flash animation:

	iflashi('http://l.b5z.net/i/u/6099658/i/menu/fs.swf?b=a',700,120,true);

And by the way, the Flash animation on this very page (kiplingsonline.com) is NOT working. This is why you see the large white space at the top.
Otherwise, I checked out the form and the data is sent to their webserver that is not secure.

	<form method="POST" name="fform" action="index.cfm" onSubmit='return formverify();' >

Now, with the Google search you get quite a few returns including several sites with exactly the same form for your to fill out. One of them had the flash animation. Outside of that, same form, same non-secure pages, etc.
I decided to look at the whois for all the domains. Notice that kiplings.net was registered in Feb 10, 2008. Isn't that suspicious for a company that just sent you a document with a Copyright of 2006?! The kiplingonline.com and kiplingsonline.com were registered in Jul 2007. Again, not 2006. Would a company like that really not register their website before doing anything else? The good thing, if I may, is that the person listed is always Rolf Heineman. However, the addresses don't all match. Did not change the old ones maybe?!

whois kiplings.net

Whois Server Version 2.0

Domain names in the .com and .net domains can now be registered
with many different competing registrars. Go to http://www.internic.net
for detailed information.

   Domain Name: KIPLINGS.NET
   Registrar: GODADDY.COM, INC.
   Whois Server: whois.godaddy.com
   Referral URL: http://registrar.godaddy.com
   Name Server: DNS1.NETTICA.COM
   Name Server: DNS2.NETTICA.COM
   Status: clientDeleteProhibited
   Status: clientRenewProhibited
   Status: clientTransferProhibited
   Status: clientUpdateProhibited
   Updated Date: 10-feb-2008
   Creation Date: 08-feb-2008
   Expiration Date: 08-feb-2010

>>> Last update of whois database: Fri, 02 May 2008 19:21:27 UTC <<<

NOTICE: The expiration date displayed in this record is the date the 
registrar's sponsorship of the domain name registration in the registry is 
currently set to expire. This date does not necessarily reflect the expiration 
date of the domain name registrant's agreement with the sponsoring 
registrar.  Users may consult the sponsoring registrar's Whois database to 
view the registrar's reported date of expiration for this registration.

TERMS OF USE: You are not authorized to access or query our Whois 
database through the use of electronic processes that are high-volume and 
automated except as reasonably necessary to register domain names or 
modify existing registrations; the Data in VeriSign Global Registry 
Services' ("VeriSign") Whois database is provided by VeriSign for 
information purposes only, and to assist persons in obtaining information 
about or related to a domain name registration record. VeriSign does not 
guarantee its accuracy. By submitting a Whois query, you agree to abide 
by the following terms of use: You agree that you may use this Data only 
for lawful purposes and that under no circumstances will you use this Data 
to: (1) allow, enable, or otherwise support the transmission of mass 
unsolicited, commercial advertising or solicitations via e-mail, telephone, 
or facsimile; or (2) enable high volume, automated, electronic processes 
that apply to VeriSign (or its computer systems). The compilation, 
repackaging, dissemination or other use of this Data is expressly 
prohibited without the prior written consent of VeriSign. You agree not to 
use electronic processes that are automated and high-volume to access or 
query the Whois database except as reasonably necessary to register 
domain names or modify existing registrations. VeriSign reserves the right 
to restrict your access to the Whois database in its sole discretion to ensure 
operational stability.  VeriSign may restrict or terminate your access to the 
Whois database for failure to abide by these terms of use. VeriSign 
reserves the right to modify these terms at any time. 

The Registry database contains ONLY .COM, .NET, .EDU domains and
Registrars.The data contained in GoDaddy.com, Inc.'s WhoIs database,
while believed by the company to be reliable, is provided "as is"
with no guarantee or warranties regarding its accuracy.  This
information is provided for the sole purpose of assisting you
in obtaining information about domain name registration records.
Any use of this data for any other purpose is expressly forbidden without the prior written
permission of GoDaddy.com, Inc.  By submitting an inquiry,
you agree to these terms of usage and limitations of warranty.  In particular,
you agree not to use this data to allow, enable, or otherwise make possible,
dissemination or collection of this data, in part or in its entirety, for any
purpose, such as the transmission of unsolicited advertising and
and solicitations of any kind, including spam.  You further agree
not to use this data to enable high volume, automated or robotic electronic
processes designed to collect or compile this data for any purpose,
including mining this data for your own personal or commercial purposes. 

Please note: the registrant of the domain name is specified
in the "registrant" field.  In most cases, GoDaddy.com, Inc. 
is not the registrant of domain names listed in this database.


Registrant:
   Kiplings Whos Who
   375 Commack Road
   Suite 204
   Deer Park, New York 11729
   United States

   Registered through: GoDaddy.com, Inc. (http://www.godaddy.com)
   Domain Name: KIPLINGS.NET
      Created on: 08-Feb-08
      Expires on: 08-Feb-10
      Last Updated on: 10-Feb-08

   Administrative Contact:
      Heineman, Rolf  julio@expertpcservice.com
      Kiplings Whos Who
      375 Commack Road
      Suite 204
      Deer Park, New York 11729
      United States
      (631) 243-0202      Fax -- 

   Technical Contact:
      Heineman, Rolf  julio@expertpcservice.com
      Kiplings Whos Who
      375 Commack Road
      Suite 204
      Deer Park, New York 11729
      United States
      (631) 243-0202      Fax -- 

   Domain servers in listed order:
      DNS1.NETTICA.COM
      DNS2.NETTICA.COM

whois kiplingonline.com

Whois Server Version 2.0

Domain names in the .com and .net domains can now be registered
with many different competing registrars. Go to http://www.internic.net
for detailed information.

   Domain Name: KIPLINGONLINE.COM
   Registrar: GODADDY.COM, INC.
   Whois Server: whois.godaddy.com
   Referral URL: http://registrar.godaddy.com
   Name Server: NS51.DOMAINCONTROL.COM
   Name Server: NS52.DOMAINCONTROL.COM
   Status: clientDeleteProhibited
   Status: clientRenewProhibited
   Status: clientTransferProhibited
   Status: clientUpdateProhibited
   Updated Date: 25-jul-2007
   Creation Date: 25-jul-2007
   Expiration Date: 25-jul-2008

>>> Last update of whois database: Fri, 02 May 2008 15:34:28 EDT <<<

NOTICE: The expiration date displayed in this record is the date the 
registrar's sponsorship of the domain name registration in the registry is 
currently set to expire. This date does not necessarily reflect the expiration 
date of the domain name registrant's agreement with the sponsoring 
registrar.  Users may consult the sponsoring registrar's Whois database to 
view the registrar's reported date of expiration for this registration.

TERMS OF USE: You are not authorized to access or query our Whois 
database through the use of electronic processes that are high-volume and 
automated except as reasonably necessary to register domain names or 
modify existing registrations; the Data in VeriSign Global Registry 
Services' ("VeriSign") Whois database is provided by VeriSign for 
information purposes only, and to assist persons in obtaining information 
about or related to a domain name registration record. VeriSign does not 
guarantee its accuracy. By submitting a Whois query, you agree to abide 
by the following terms of use: You agree that you may use this Data only 
for lawful purposes and that under no circumstances will you use this Data 
to: (1) allow, enable, or otherwise support the transmission of mass 
unsolicited, commercial advertising or solicitations via e-mail, telephone, 
or facsimile; or (2) enable high volume, automated, electronic processes 
that apply to VeriSign (or its computer systems). The compilation, 
repackaging, dissemination or other use of this Data is expressly 
prohibited without the prior written consent of VeriSign. You agree not to 
use electronic processes that are automated and high-volume to access or 
query the Whois database except as reasonably necessary to register 
domain names or modify existing registrations. VeriSign reserves the right 
to restrict your access to the Whois database in its sole discretion to ensure 
operational stability.  VeriSign may restrict or terminate your access to the 
Whois database for failure to abide by these terms of use. VeriSign 
reserves the right to modify these terms at any time. 

The Registry database contains ONLY .COM, .NET, .EDU domains and
Registrars.The data contained in GoDaddy.com, Inc.'s WhoIs database,
while believed by the company to be reliable, is provided "as is"
with no guarantee or warranties regarding its accuracy.  This
information is provided for the sole purpose of assisting you
in obtaining information about domain name registration records.
Any use of this data for any other purpose is expressly forbidden without the prior written
permission of GoDaddy.com, Inc.  By submitting an inquiry,
you agree to these terms of usage and limitations of warranty.  In particular,
you agree not to use this data to allow, enable, or otherwise make possible,
dissemination or collection of this data, in part or in its entirety, for any
purpose, such as the transmission of unsolicited advertising and
and solicitations of any kind, including spam.  You further agree
not to use this data to enable high volume, automated or robotic electronic
processes designed to collect or compile this data for any purpose,
including mining this data for your own personal or commercial purposes. 

Please note: the registrant of the domain name is specified
in the "registrant" field.  In most cases, GoDaddy.com, Inc. 
is not the registrant of domain names listed in this database.


Registrant:
   Expert PC Service
   299 Edison Ave
   West Babylon, New York 11704
   United States

   Registered through: GoDaddy.com, Inc. (http://www.godaddy.com)
   Domain Name: KIPLINGONLINE.COM
      Created on: 25-Jul-07
      Expires on: 25-Jul-08
      Last Updated on: 25-Jul-07

   Administrative Contact:
      Heineman, Rolf  domains@expertpcmail.com
      Expert PC Service
      299 Edison Ave
      West Babylon, New York 11704
      United States
      (631) 423-9800      Fax -- (631) 423-9823

   Technical Contact:
      Heineman, Rolf  domains@expertpcmail.com
      Expert PC Service
      299 Edison Ave
      West Babylon, New York 11704
      United States
      (631) 423-9800      Fax -- (631) 423-9823

   Domain servers in listed order:
      NS51.DOMAINCONTROL.COM
      NS52.DOMAINCONTROL.COM

whois kiplingsonline.com

Whois Server Version 2.0

Domain names in the .com and .net domains can now be registered
with many different competing registrars. Go to http://www.internic.net
for detailed information.

   Domain Name: KIPLINGSONLINE.COM
   Registrar: GODADDY.COM, INC.
   Whois Server: whois.godaddy.com
   Referral URL: http://registrar.godaddy.com
   Name Server: NS51.DOMAINCONTROL.COM
   Name Server: NS52.DOMAINCONTROL.COM
   Status: clientDeleteProhibited
   Status: clientRenewProhibited
   Status: clientTransferProhibited
   Status: clientUpdateProhibited
   Updated Date: 31-jul-2007
   Creation Date: 31-jul-2007
   Expiration Date: 31-jul-2008

>>> Last update of whois database: Fri, 02 May 2008 20:50:22 UTC <<<

NOTICE: The expiration date displayed in this record is the date the 
registrar's sponsorship of the domain name registration in the registry is 
currently set to expire. This date does not necessarily reflect the expiration 
date of the domain name registrant's agreement with the sponsoring 
registrar.  Users may consult the sponsoring registrar's Whois database to 
view the registrar's reported date of expiration for this registration.

TERMS OF USE: You are not authorized to access or query our Whois 
database through the use of electronic processes that are high-volume and 
automated except as reasonably necessary to register domain names or 
modify existing registrations; the Data in VeriSign Global Registry 
Services' ("VeriSign") Whois database is provided by VeriSign for 
information purposes only, and to assist persons in obtaining information 
about or related to a domain name registration record. VeriSign does not 
guarantee its accuracy. By submitting a Whois query, you agree to abide 
by the following terms of use: You agree that you may use this Data only 
for lawful purposes and that under no circumstances will you use this Data 
to: (1) allow, enable, or otherwise support the transmission of mass 
unsolicited, commercial advertising or solicitations via e-mail, telephone, 
or facsimile; or (2) enable high volume, automated, electronic processes 
that apply to VeriSign (or its computer systems). The compilation, 
repackaging, dissemination or other use of this Data is expressly 
prohibited without the prior written consent of VeriSign. You agree not to 
use electronic processes that are automated and high-volume to access or 
query the Whois database except as reasonably necessary to register 
domain names or modify existing registrations. VeriSign reserves the right 
to restrict your access to the Whois database in its sole discretion to ensure 
operational stability.  VeriSign may restrict or terminate your access to the 
Whois database for failure to abide by these terms of use. VeriSign 
reserves the right to modify these terms at any time. 

The Registry database contains ONLY .COM, .NET, .EDU domains and
Registrars.The data contained in GoDaddy.com, Inc.'s WhoIs database,
while believed by the company to be reliable, is provided "as is"
with no guarantee or warranties regarding its accuracy.  This
information is provided for the sole purpose of assisting you
in obtaining information about domain name registration records.
Any use of this data for any other purpose is expressly forbidden without the prior written
permission of GoDaddy.com, Inc.  By submitting an inquiry,
you agree to these terms of usage and limitations of warranty.  In particular,
you agree not to use this data to allow, enable, or otherwise make possible,
dissemination or collection of this data, in part or in its entirety, for any
purpose, such as the transmission of unsolicited advertising and
and solicitations of any kind, including spam.  You further agree
not to use this data to enable high volume, automated or robotic electronic
processes designed to collect or compile this data for any purpose,
including mining this data for your own personal or commercial purposes. 

Please note: the registrant of the domain name is specified
in the "registrant" field.  In most cases, GoDaddy.com, Inc. 
is not the registrant of domain names listed in this database.


Registrant:
   Expert PC Service
   299 Edison Ave
   West Babylon, New York 11704
   United States

   Registered through: GoDaddy.com, Inc. (http://www.godaddy.com)
   Domain Name: KIPLINGSONLINE.COM
      Created on: 31-Jul-07
      Expires on: 31-Jul-08
      Last Updated on: 31-Jul-07

   Administrative Contact:
      Heineman, Rolf  domains@expertpcmail.com
      Expert PC Service
      299 Edison Ave
      West Babylon, New York 11704
      United States
      (631) 423-9800      Fax -- (631) 423-9823

   Technical Contact:
      Heineman, Rolf  domains@expertpcmail.com
      Expert PC Service
      299 Edison Ave
      West Babylon, New York 11704
      United States
      (631) 423-9800      Fax -- (631) 423-9823

   Domain servers in listed order:
      NS51.DOMAINCONTROL.COM
      NS52.DOMAINCONTROL.COM


The following image is the main page of the website. In itself, it isn't too bad but for a directory that will represent me, I do not want it. Period! The buttons like things in the middle have a link associated with them that does nothing. The cdrom email works. In case you wanted a copy of the data... I'm not too sure about the Member Login since he's not putting a link to a website where we could register... And that's correct, the "Forgot your password?" is just a question. There is no answer to it (it is not a link!) If the site still works, you'll be able to see the About Us which is nothing more than some more blah blah...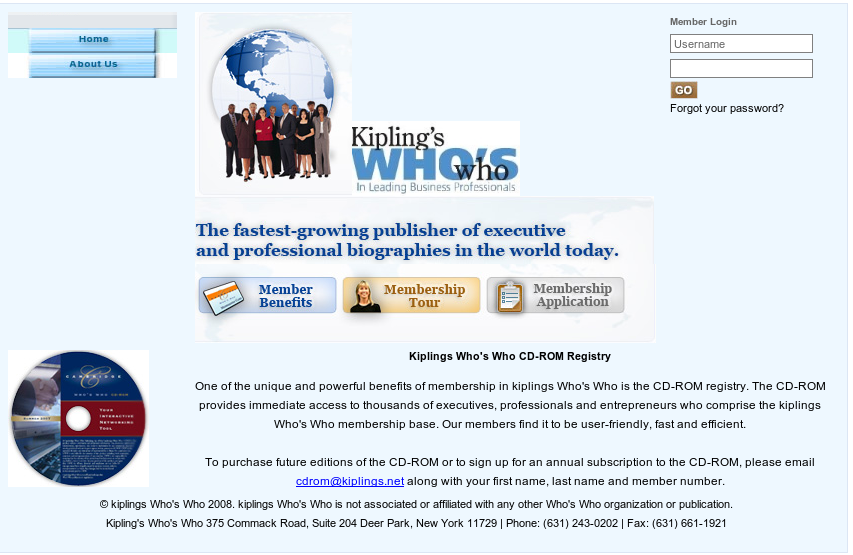 You can read comments from a few people who received a phone call from these people: 800notes. They also mentioned that they work under two other names: Nation Registry and Madison's Who's Who.
Madison Who's Who seems to be a legal business, though. They have a real website! Also these people do the same thing as Kiplings, they contact people to enter them in their books, at least you have a real website that makes you feel a lot more comfortable! And their litterature is certainly a lot better too (much more accurate).
A for Nation Registry, there are many businesses using these words just like that, but none I could find that is name exactly as such.
I also have the response envelope for those who want to see everything.