John Micheal—Searching for our sales maneger or accounting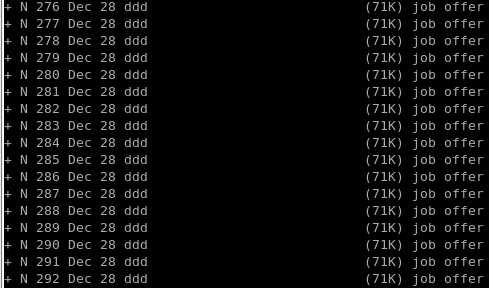 This email, I received a few times (293 - 276 = 17). The image on the right shows my mailbox. I use Pine which is good because Thunderbird has a hardtime when the To: field is composed of several thousand email addresses (2809 to be precise!). In that regard, I am mentioned twice in that list (which I do not show since I do not want people's email to be published on my site!) What is surprising is that I received the email 17 times which is not a multiple of 2. Well... maybe each instance had a different count and email address! (the first email address looked alike in all instances though.)
Now, if you are kind of like good enough to read English, you will quickly notice that it is not too good. The funny part is that actually the sentences before the ad are not too too bad (just kidding) but the ad itself it just balently bad. And he's representing a customer in the UK. Maybe he's a newbie from India? He! He! I think Indian can write a lot better than that! Even those who live in India! I know, I've met many already! So?! Who is that John Micheal?
---

Return-Path:		<root@jupiter.arborhost.com>
X-Original-To:		alexis@halk.m2osw.com
Delivered-To:		alexis@halk.m2osw.com
Received:		from mail.m2osw.com (m2osw.com [69.55.238.181])
			by halk.m2osw.com (Postfix) with ESMTP id A03AF1BDE4
			for <alexis@halk.m2osw.com>; Fri, 28 Dec 2007 08:24:45 -0800 (PST)
Received:		from jupiter.arborhost.com (unknown [64.212.33.11])
			(using TLSv1 with cipher DHE-RSA-AES256-SHA (256/256 bits))
			(No client certificate requested)
			by mail.m2osw.com (Postfix) with ESMTP id 8D07C67840EA
			for <alexis@m2osw.com>; Fri, 28 Dec 2007 08:24:39 -0800 (PST)
Received:		(qmail 11624 invoked by uid 48); 28 Dec 2007 07:45:26 -0500
Date:			28 Dec 2007 07:45:25 -0500
Message-ID:		<20071228124525.11623.qmail@jupiter.arborhost.com>
To:			<2809 people!>
Subject:		job offer
From:			ddd <jesica_benson01@yahoo.com>
Reply-To:		jesica_benson01@yahoo.com
MIME-Version:		1.0
Content-Type:		text/plain
Content-Transfer-Encoding: 8bit

Hello,
My name is John Micheal and I am mailing on behalf of Creative Arts and Craft UK Co Ltd to post an ad on our vacances job available in our local Bliss Arts producing company for the post of a maneger, ACCOUNTANT. I want my COMPANY advert for publication as written below
=================================================
Our company are looking for a honest person who will be our sales maneger or accounting and we also looking for a staff to employee so we are looking for up to 30 people to employee in our company because we have not employee any body before but now our company have paint and finished up,If you are interested and need more information,Please send e-mail to my company below email address ;- ( jessica_benson01@yahoo.com )
contact number ;- +447024075484
=================================================
Get back to me with the total cost for 3 weeks to run our company advert on your newspaper.